Wine and chocolate
With Chocolate the sky is the limit
André Peeters writes in Weekend Plaza about which wines go best with which chocolate dishes.
Four experts put their noses together:
Dominique Persoone
Guido Francque
Patrick Devos
Wouter De Bakker
To find out what wine goes with a chocolate product, you have to discover the ingredients that are used to make the chocolates.

Dominique Persoone from Chocolate Line, Bruges, believes the sky is the limit: he uses all kinds of flavours.

What is the procedure? First of all taste the wine as you normally would. Next take a bite of chocolate, let the tastes merge in your mouth and round off the proceedings with a sip or two of wine.
Try to discover: the culinary raw materials (ingredients), the origin of the chocolate and the type of wine. If you would like to taste them at home the chocolates mentioned (from the Belcolade company) are available from specialist shops.
1. Praline with asparagus and asparagus chips
Chocolate: Costa Rica milk collection, using 38% cocoa solids
Wine: Jose Pariente Verdejo 2005, Dos Victorias, Rueda.
A bar of chocolate may accompany an asparagus dish. That is the first thing we see. This light wine concludes with a bitter finish similar to the one in the chocolate. A fine combination.
2. Praline with liquorice and cherries.
Chocolate: 64% Costa Rica Dark Collection.
Wine: Wine from the Drome region ET-G 2004, Le Plan Estate.
Made from pure grenache, with a sweet nuance, it is perfect with liquorice and the succulence of cherries. The chocolate absorbs the tannins.
3. Praline with bou d'fagne and apricot
Chocolate: 43%Venezuela Milk Collection
Wine: Tokaji Aszu 4 Puttonyos 2000, Château Megyer.
Bou d'fagne is a goat's cheese. This continues to ripen so it has to be treated very delicately. An unusual and somewhat tricky combination.
4. Chocolate with rose and black pepper
Chocolate: Caramel and White Milk Selection with candied cumquats
Wine: Moscatel Soleado 2004, Guttiéres Colosia, D.O. Jerez.
Sweet and sweet is a permissible pairing. The main flavour is provided by the cumquats but the seasoning also makes an outstanding contribution. A fine harmony.

5. Praline with candied garlic in olive oil and chicory
Chocolate: 64% Costa Rica Dark Collection
Wine: Don PX Gran Reserva 1979, Toro Albala, Montilla-Moriles.
The most controversial combination. A blend of flavours that surprising enough go remarkably well together: garlic, olive oil and chicory. The sherry adds an extra dimension, while the coffee creates a bridge between the garlic and chocolate.
Unique tasting of chocolate with wine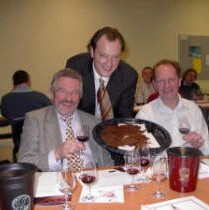 On February 22, during the "Festival of Chocolate in Bruges" we organized a unique tasting of chocolate with wine. Not only sweet wines were tested, but dry red wines too.
The exclusive "Collection" chocolate was offered to us by Belcolade, in collaboration with Domenica Persoone (The Chocolate Line) and Jacky Vergote of the Chocolate Museum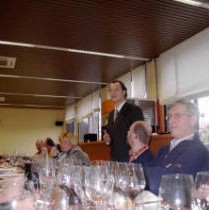 Which wine goes best with which chocolate???
The terminology used in the world of chocolate is comparable with that used for wine. Soil, climate and distillation determine the taste.
Belcolade has developed a scientific method for determinimg the taste profile of chocolate "The Flavours of Cyrano".
This development is based on an analytical and sensory study of the components of the taste of chocolate. "Cyrano" flavours are used to identify and describe the most specific and unique varieties of cocoa and to develop the exclusive range of "Collection" origin chocolates.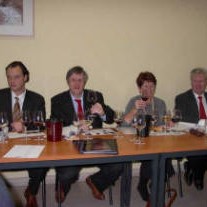 Dark chocolate tasting.
Papua New Guinea 64% cocoa
Nuances of whisky and smoke, combined with an acid cocoa taste, constitute the body of this chocolate. A bouquet of tobacco and a light mushroom aroma, give this origin chocolate a sensational, almost voluptuous taste.
Peru 64% cocoa
A light taste of bitter cocoa with a fresh fruit key, accentuated by a dried fruit bouquet, make this chocolate an unforgettable sensation.

Costa Rica 64% cocoa
A noir chocolate with a marked taste and a refined, bitter cocoa flavour. A delicate bouquet of smoke and wood gives this chocolate its own typical appeal.
Trinidad&Tobago 64% cocoa
A noir chocolate with an extremely pronounced taste and a refined bitter cocoa flavour. A harmonious bouquet gives this chocolate from Jamaica its own characteristic taste.
Ecuador 71% cocoa
A soft, aromatic chocolate, a true passepartout. The exceptionally refined taste and rich flavour of the "Cacao Nacional" of Ecuador is the most important characteristic of this origin chocolate.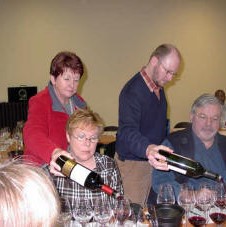 Milk chocolate Tasting.
Costa Rica 38% cocoa
The lightly roasted cocoa flavour, enrobed by a creamy body, is a real delight for the gourmet. You feel the tingling of olives and clove and the heat of the wood on your tongue which is cherished by this soft, creamy chocolate.


Venezuela 43% cocoa
A pronounced cocoa taste with a general impression of roast cocoa beans. A marked nutty accent combined with a caramel and vanilla taste, gives this milk chocolate an exclusive character.

Does wine go with chocolate ?
Number present : 28
positive score :
| | Papua | Peru | Tobago | Ecuador |
| --- | --- | --- | --- | --- |
| Errazuriz merlot | 18 | 27 | 17 | 9 |
| St Marys Petit verdot | 27 | 3 | 6 | 3 |
| Errazuriz Syrah/c.s | 5 | 10 | 15 | 12 |
| Piedra Filiz Pinot noir | 9 | 12 | 6 | 15 |
| Rasteau Grenache | 1 | 13 | 5 | 11 |
| Santa Ema Carmenère | 8 | 19 | 17 | 18 |
| Planeta Syrah | 8 | 0 | 10 | 6 |
| Punto Final Malbec | 15 | 14 | 7 | 17 |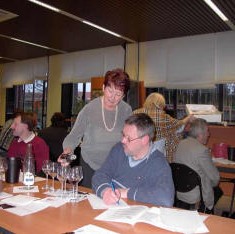 Series 1
1 Merlot Errazuriz 2005 Chile

A pleasant bouquet with a fruity taste which is in harmony with the softer flavour of the cocoa.
2 PetitVerdot St.Marys 2003 Australia
The explosive flavour of mint and eucalyptus are a plus for the burnt aromas of the 1st chocolate.
3 Syrah/Cabernet sauvignon, Errazuriz 2003 Chile
A concentrated, pleasant wine which prefers another partner than chocolate.
4 Pinot Noir, Piedra Filiz "Michel Laroche" 2002 Chile
A pleasant wine which becomes clearer beside a solid chocolate.
Series 2
1 Grenache Rasteau "Saint-Gayan Field" 2002 France
Red fruits in the nose, a flexible and tender concentration, a very good wine but one which is not appropriate for drinking with chocolate.
2 Carmenère Santa Ema Reserva 2001 Chile
Maturity, forest fruits, light wood key, beautiful acidity and well -balanced,
the best partner for the selected chocolates.
3 Syrah Planeta 2002 Sicily
A dark purple colour, to be served very young, spicy, black fruits, very balanced, very fine tannin. A pleasant wine but not to be drunk with pure chocolate.
To be served perhaps with a dish accompanied by a sauce containing chocolate.
4 Malbec Punto Final Held 2004 Argentina
A pleasant wine with a fruit wood taste, mixed with notes of caramel and babelutte, which goes with several chocolate flavours.
| | Costa Rica | Venezuela |
| --- | --- | --- |
| Rivesaltes Tuilé hors age | 27 | 28 |
| Rivesaltes Ambré | 19 | 21 |
| Rivesaltes Tuilé | 16 | 26 |
| Black Muscat | 24 | 12 |
| Banuyls | 9 | 15 |
| Moscato d'Asti | 0 | 9 |
Series 3
1 Rivesaltes Tuilé "Hors d'age Sweet Emotion" Vignobles Dom Brial France
A pleasant inviting wine with a light key of oxidation, grapes, dried fruits, speculoos.
2 Rivesaltes Ambré "Immoral" Vineyards Dom Brial - France
A light wine with cognac flavours, a beautifully soft wine, to accompany milk chocolate.
3 Rivesaltes Ambré "Incorrectl" Vineyards Dom Brial - France
Closed, little nose, light impression of dried fruits, goes well with the taste of Venezuelan cocoa butter.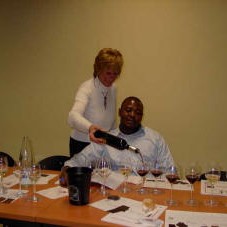 Series 4
1 Black Muscatel "Elysium" Andrew Quady 2001 Madera, California
PRIMEUR, no-one knows it, exceptional colour, fruity and pleasant nose;
Very balanced, in perfect harmony with the flavours of the chocolate of Costa Rica.
2 Banuyls "Le Muté sur grains de la rectorie" 2004 France
A very balanced wine, cannot bring added value to the selected chocolate.
3 Moscato Silk "Bricco Riella" Zienda Agricola Cascina Pian d' Or Italia
Typical flavours of muscatel, a very fine mousse with an impression of green apples and acid drops. Does not go well with chocolate, but finishes a meal agreeably.
Conclusion: Both dry and sweet wines with the same flavours as the accompanying chocolates, constitute an excellent duet.

Patrick Kabongo, chef at the Erasmus restaurant, advised us on the wine and beers
Kriek, Orval et Moinette brune beers were his favourites.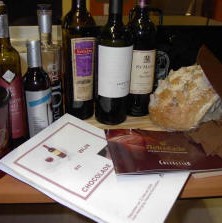 We would like to thank the following for their help and support:
Wijnen De Clerck NV, Burgemeester Vercruysselaan 14 , 8500 Kortrijk
Wijnen Feys Jacques & Van Acker Michel , Raamstraat 1 bis , 8000 Brugge
Bacchus , Lippenslaan 13 - 15 , 8300 Knokke-Heist
Wijnen Maenhout NV, Monnikenwerve 117 , 8000 Brugge
La Capucina Import , Turnhoutsebaan 501 - bus 1 , 2110 Wijnegem www.invitisvinifera.be
Gustoworld , Avenue de l' Energie 6 , 4432 Alleur www.gustoworld.com
Chocolade Belcolade , Industrielaan 16 , 9320 Eernebodegem www.belcolade.com
Choco-Story - Chocolade museum , Wijnzakstraat 2 , 8000 Brugge www.choco-story.be
The Chocolate Line , Simon Stevinplein 19 8000 Brugge www.thechocolateline.be

Unique tasting of chocolate with wine on Belcolade stand
Belcolade presented on its stand at Choco-Laté 5 pralines combining single-origin chocolate, original fillings and the suitable wines.
A true culinary revelation.
Here are the 5 pralines and the accompanying wines.

Belcolade molecular chocolate and wine tasting
Tasting recommendation: first of all taste the wine, next the praline, and then the wine again
Wine
Praline
Chocolat
Verdejo 2005 " José Pariente "
Dos Victorias
Rueda - Spain
Filling with asparagus and asparagus chips
Milk
Costa Rica Collection 38
GT-G Granche 2004
Domaine Le Plan
Drôme - France
Filling with cherries and liquorice
Black
Costa Rica Collection 64
Aszu 4 Puttonyos
Château Megyer
Tokay - Hungary
Filling with Bou d'Fagne and apricot
Milk
Venezuela Collection 43
Moscatel Soleado 2004
Guttiérres Colosia
Jerez - Spain
Pink and black pepper, crystallized kumquats and nuts
Caramel Milk
Milk Selection
Don PX. Gran Reserva 1971
Toro Albala
Montilla-Moriles - Spain
Crystallized garlic in olive oil with roasted chicory
Black
Costa Rica Collection 64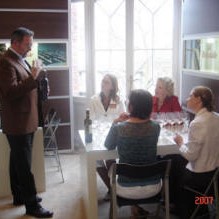 It is the work of:
- Guido Franque: wine specialist, gourmet, writer
- Patrick Devos: Patrick Devos restaurant
- Wouter De Bakker: top wine waiter in Belgium 2006
- Dominique Persoone: chocolate maker who runs The Chocolate Line
Congratulations to this team of experts and to Belcolade.