Philippines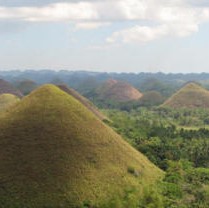 Chocolate Hills

The Chocolate Hills is an unusual geological formation in the island province of Bohol in the Philippines.
Bohol is about 700 km south of Manila and is about 70 km south-east of Mactan island.
The hills are the most famous tourist attraction on the island and consist of at least 1,268 individual mounds.
The hills are scattered throughout the municipalities of Carmen, Batuan, and Sagbayan.
What makes them intriguing is their mostly uniform molehill shape and size ranging from 30 to 50 meters high.
The hills are covered in green grass that turns brown during the dry season, giving the hills their name.
Geologists have long debated about the formation of the hills. The most accepted theory, and the one that is written on a bronze plaque at an observation hill, is that the hills are eroded formations of a type of marine limestone that sits on top of hardened clay.