Venezuela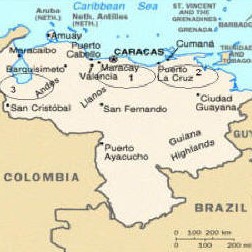 One of the countries where cocoa arrived first, on its slow rise up the amazon region towards the Central America.
Three areas usethe Cocoa of Venezuela "appellation".
The area close to Caracas - Barlovento where Carenero is cultivated,
Baria where the type of cocoa is Rio Caribe, and Sur del Lago (lake of Maracaïbo) where the cocoa bears the name of Sur del Lago.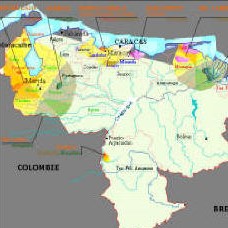 The total production of Venezuela can be estimated at 16.000 tons on an area of approximately 33.000 ha. 800 cocoa-trees per hectare are planted.
About 15.000 families live by producing cocoa there.
In Venezuela there are 2 harvests a year. The biggest (60% to 65%) is from November to January. And a smaller, second one from May to July (35% to 40%).
What is especially interesting is the large number of varieties of Criollo cocoa, which are white inside the bean.
Their purity, i.e the degree of more or less pronounced hybridization with Forastero (or Amazonica as it is sometimes called) varies from one type of Criollo cocoa to the other.
Guasaré (see photo) would be the purest (96%).
The local sometimes call it, the father of the porcelana.
This type of Criollo is 92% pure
There are three varieties of Porcelana: yellow, red and green.


Ocumaré has a purity of 89%.
We have seen 3 types of Ocumaré. Ocumaré 77 (see photo), Ocumaré 67 and Ocumaré 61 (see photo). But there are more than 100 listed varieties. Which is why they all have a number.
We also saw Chuao (see photo) of which there are more than 25 varieties.
There was also Canoabo (see photo).
There are however many Trinitarios in Venezuela.
Rio Caribe (Trinitario)
Trees providing the shade necessary to the cocoa bush are in the area of Baria
- the mahogany tree planted for the value of its wood
- the bukaré. Among them the peonia gives beautiful flowers and pods filled with very hard red and black seeds, and which are threaded as necklaces
- the "jabillo" with a seed shaped like a dolphin. The hard part is polished and used by the locals as a decoration.
According to one of the farmers we met, the Criollo tree is recognized by the velvet on the end of its branches. The Criollo flower is whitish green in colour. The Trinitario is redder.
The difference is obvious when the cocoa beans are cut. Criollo is white and Trinitario or Forastero is purple.
What is interesting is to see that some pods contain seeds of both colours. It is a form of natural hybridization that has been created (see photo).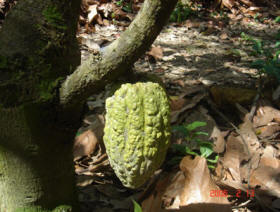 Guasaré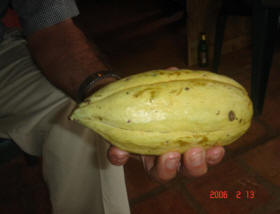 Porcelana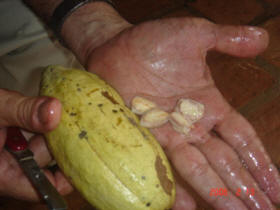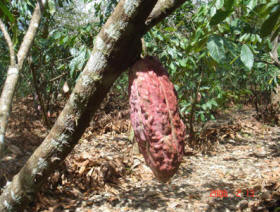 Ocumaré 77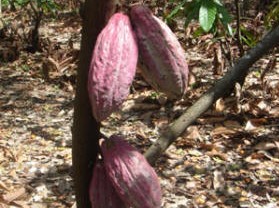 Ocumaré 61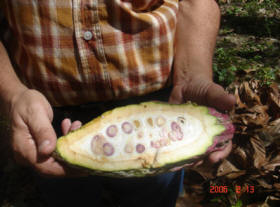 Ocumaré 61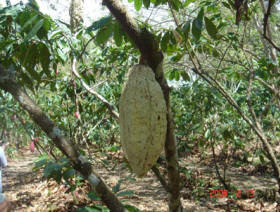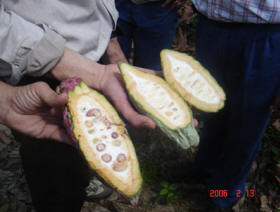 Ocumaré 61 / Chuao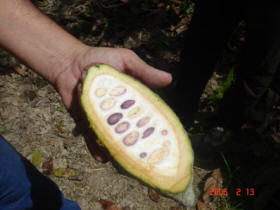 Chuao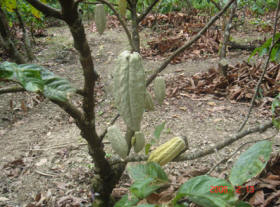 Canoaba (Criollo)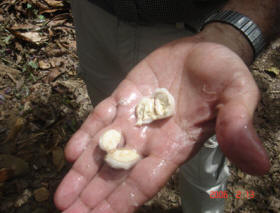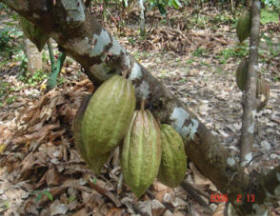 Rio Caribe (Trinitario)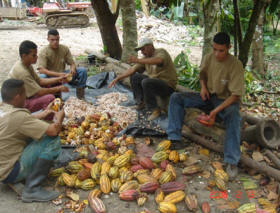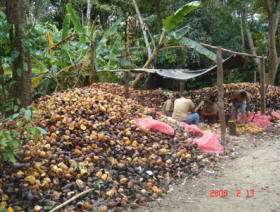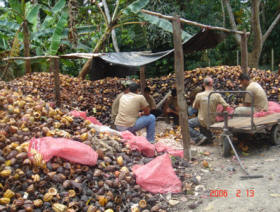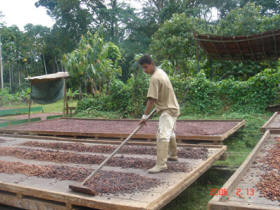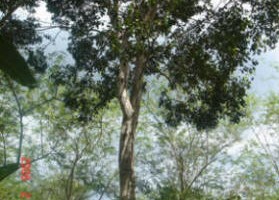 Mahogany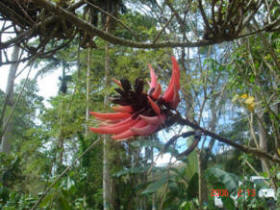 Bukare Peonia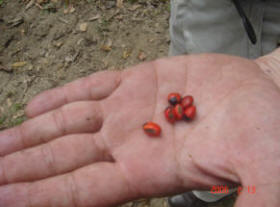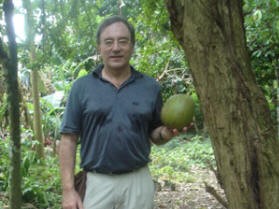 The fruit of the calebash tree out of which the "jicaras" are made.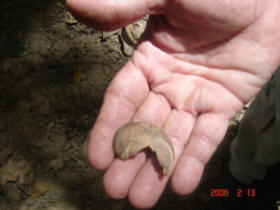 Jabillo (=dolfin)